From the ShoreTel Conference Web Portal, you can create conferences, record conferences, and more. We are still analyzing utilization so at the moment, you can host up to 20 callers at one time.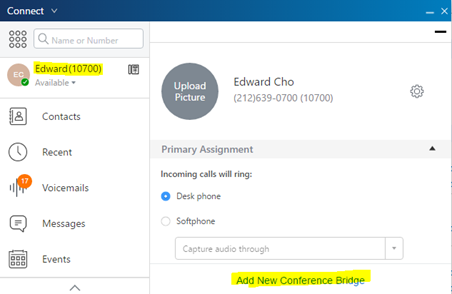 Conference Bridge
Start Mitel Connect by clicking on the Mitel button on your desktop.
Select your name (as highlighted on the left side).
Select Add New Conference Bridge.
In the Name field, type descriptor and click the Add You do not need to specify the organizer code.
Your conference bridge information will be listed under the lower right hand section (i.e. where My Conference is on the screenshot.).
You may reuse your conference bridge information until you remove your call.
To remove it, click on Edit above the Green Phone button and click on the Remove button.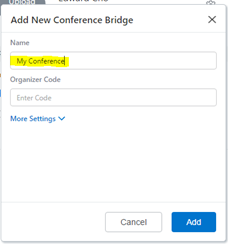 Numbers for Outside Callers:
+1 (212) 639-0198
+1 (877) 401-6540
Additional Notes & Capabilities
Press the Green Phone button to directly call your desk phone right into the conference call.
Press the Monitor Button to perform the following functions:
Mute – Mute your Phone Microphone
Mute All – Mute Everyone Except Your Microphone
Share Your Screen – Show your screen to those who join via the Link above.
Record Your Call – Record your conference call.
Raise Your Hand – Raise your hand to the organizer.
Add Participant – Conference Bridge will call
Lock / Unlock
Show Info – Show Conference Bridge Info
During an audio conference, the following key commands can be used:
#0 List available commands
#1 Mute/unmute your own line during conference
#2 Host only - mutes/unmutes all lines
#3 Host only - lists conference participants
#4 Host only - starts/stops recording
#5 Host only - locks/unlocks conference
#99 Host only - ends the audio and web conference

Retrieve your recordings:
** Only the organizer may retrieve the recorded call.
Open Mitel Connect.
Click Events.
On the pane that pops up, select Past at the top.
Highlight the recorded event and click the Recordings paperclip. Under there you can play back the recording, download the recording, copy the URL to the recording to share, or delete the recording.